For Immediate Release: Mar 18, 2018
The Alan Jay 120 at Historic Sebring Raceway was round 2 of the Continental Tire Sportscar Championship, and the Carbahn/Peregrine Racing, Westphal/Mcquarrie duo were eager to build on their speed they had in Round 1 at Daytona.
Jeff Westphal and Tyler McQuarrie took the helm of the #39 Audi R8 GT4 around the bumpy, retired runway circuit, which has been in use since the early 1950's and once again showed impressive speed, running at the front of the field multiple times during the 2 hour race. The R8 GT4 is a worldwide-homologated platform, which can be raced in any championship that houses GT4 category race cars, and shares many components with the street going Audi R8 Sportscar.
Qualifying 6th, and finishing 5th isn't a testament to the efforts put forth by the team, and drivers of the program. With small but unique snags in pit lane, the car rejoined the race from 21st and 16th after pitting in the top 3 twice, only to be lifted back into the top 5 thanks to the efforts of the pilots.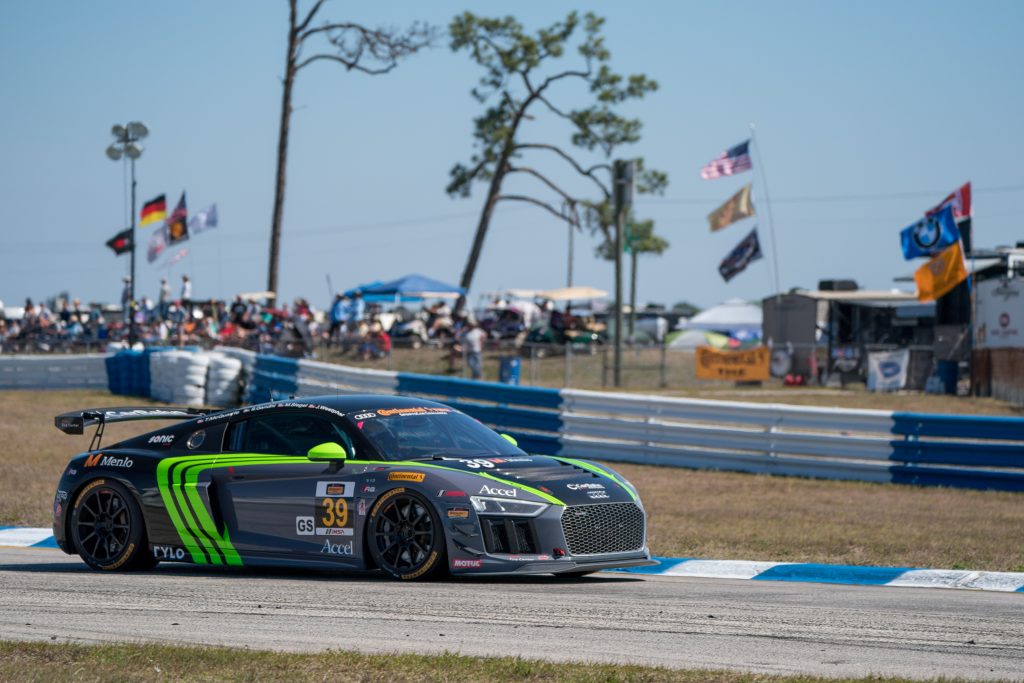 "The team is gelling nicely, but we still have some work to do. Like anything else, the things that separate the few at the top are very small details, and we have a few items in that category that will help us put a complete race effort together." Explained Jeff. The team looks to improve the car both in long run format, and pit stop efficiency. "Both of those areas are necessary if you want to win in the incredibly competitive field, with 28 cars, more than a couple will get the strategy, pit stops, and car speed formula correct. The top 5 is a great step forward, but from top to bottom this team is built of racers, so although we are happy with our result, we wont stop until we are leading the pack." Said Westphal.
Round 3 of the CTSC is at Mid Ohio, a famous natural terrain road course that utilizes the rolling hills of Lexington, OH. The #39 Audi from Carbahn/Peregrine Racing will be back in action, May 3-5th, 2018 to hopefully build on the momentum established thus far, and work towards the elusive podium.