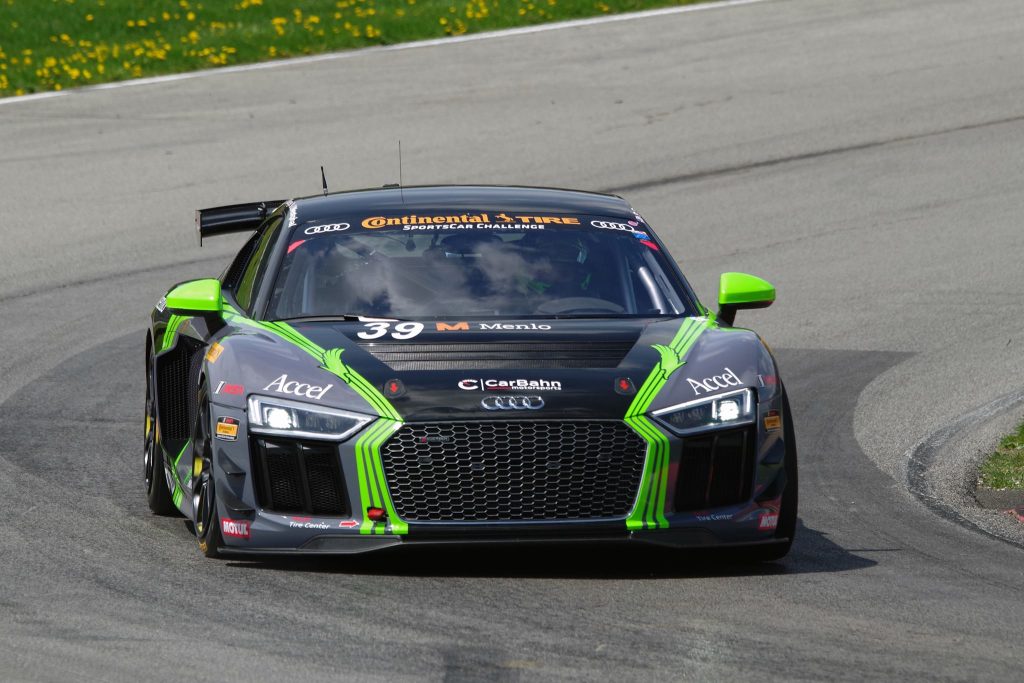 For Immediate Release-
Round 3 of the IMSA Continental Sportscar Challenge on May 5th ventured to Lexington, Ohio to the historic Mid Ohio Sportscar Course. The natural terrain, 13 turn road course has played host to many of America's top racing championships such as Grand AM, IMSA, Indycar, Trans Am, and Nascar.
Peregrine Racing & Carbahn Motorsport entered the #39 Audi R8 GT4 LMS in the 24 car GS (Grand Sport) Field made up of GT4 Machinery from various manufactures, and hoped to show they were better than the rest, as well as validate the high level of engineering developments to the Audi R8's set up. Drivers Mark Siegel and Jeff Westphal, took the wheel in the two driver, 2 hour race. Westphal was returning to Mid Ohio from his last outing with Scuderia Corsa in their Ferrari 458 GT in 2013, and this would be the maiden outing for Siegel, as well as his first race in the Carbahn Peregrine Racing R8.
"The car felt amazing, a great step above the racecar I had at Daytona and Sebring earlier this year. It's a testament to the hard work of every single person at Carbahn Autoworks. I was able to set some of the quickest laps of the race and have one of the best average lap groupings of the field, major compliments to the team for a fantastic Audi." Explained Jeff "I can't wait to sample the next phase of refinement Carbahn will have for us at the 4HR Watkins Glen in June as the field here is mega competitive" said Westphal.
The #39 R8 finished 12th of 24 field, & set some of the fastest laps in the race, eclipsing pace from Ford, Mercedes AMG, Porsche, BMW, McLaren and Aston Martin. You can watch the coverage of the event on Fox Sports 1, Saturday May 12th @ 12:30pm Est.
Jeff Westphal Racing would like to thank the following:
Peregrine Racing
Carbahn Autowork
TNVC Inc.
Hammer Nutrition
Sparco USA
Bell Racing USA
Aero
Sonic Tools