Canadian Tire Motorsport Park, CTMP formerly known as Mosport was the midway point in the 10 race IMSA Continental Tire Sportscar Challenge season, and the 5th race of the year for Peregrine Racing with Carbahn Motorsport.   Drivers Jeff Westphal and Tyler McQuarrie took to the helm of the #39 Audi R8 GT4 LMS the weekend following 4th of July.
The team and Drivers, eager to bounce back from some bad luck that kept them off the podium at Watkins Glen (round 4) took to the circuit and checked all the boxes in terms of prep and execution leading up to the event. During the race, their diligence continued and they had great pace in the 2hr sprint race. Unfortunately a series controlled rule for fuel quantity per brand of car, and fuel flow speed regulation would decide the #39's fate, as they continued to loose over 10 seconds in the pit lane due to the Audi taking longer time to fill a similar sized gas tank as well as needed to stop twice to make it to the end of the race.
"CTMP is always a great place to race, high speed, unforgiving, it makes for a really exciting time behind the wheel every year" explained Jeff. "Unfortunately for us, the rule book forced our Audi to stop twice when the leaders made it in one pit stop, not to mention taking almost 15 seconds longer to fill the car. Tyler did an amazing job, pit in 2nd place and I left pit lane of the first stop in 7th with just under 1 hour to go. This is something that's out of our hands in a way. IMSA has a very tough job to do balancing the speed and race between Mustangs, Mclaren's, AMG's, BMW's, Porsche's and Audi's. For the most part they do a really good job, but in this aspect the rules are not correct, and it cost us a podium today."
The drivers fought hard every lap, battling their way back up to a 6th position after an extra pit stop, but the result feels hollow in terms of the effort that was put forth.
"The crew had good pit stops with no mistakes costing us time other than the fuel fill speed" said McQuarrie. "I tried to give Jeff the best car I could, and he battled tooth and nail to get the positions back we lost in pit lane, but ultimately 6th was all we could walk away with."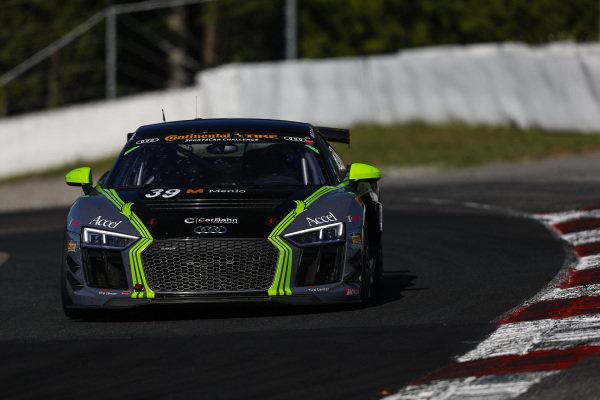 The team has been in contact with the series about the deficiency in the regulations pertaining to their fuel flow speed and distance short comings, and preps the #39 Audi for round 6 at Lime Rock Park in Lakeville, CT July 19-21, 2018. Follow them at:
@Westphalracing
@Tylermcquarrie
@Carbahnautoworks
@Peregrineracingteam