For Immediate Release –
July 6th was Round 5 of the IMSA Michelin Pilot Challenge where California based Carbahn Motorsport with Peregrine Racing Team raced their #39 Audi R8 LMS GT4 from 2nd place on the grid after a phenomenal effort in qualifying.

Season long drivers Jeff Westphal and Tyler McQuarrie were excited about round 5 of the championship as this is the midway point in the 10 race championship that they are currently in 2nd place overall, just 4 points out of the lead. A good points haul this weekend could have them closing in on the leaders of the championship, which of course is the goal.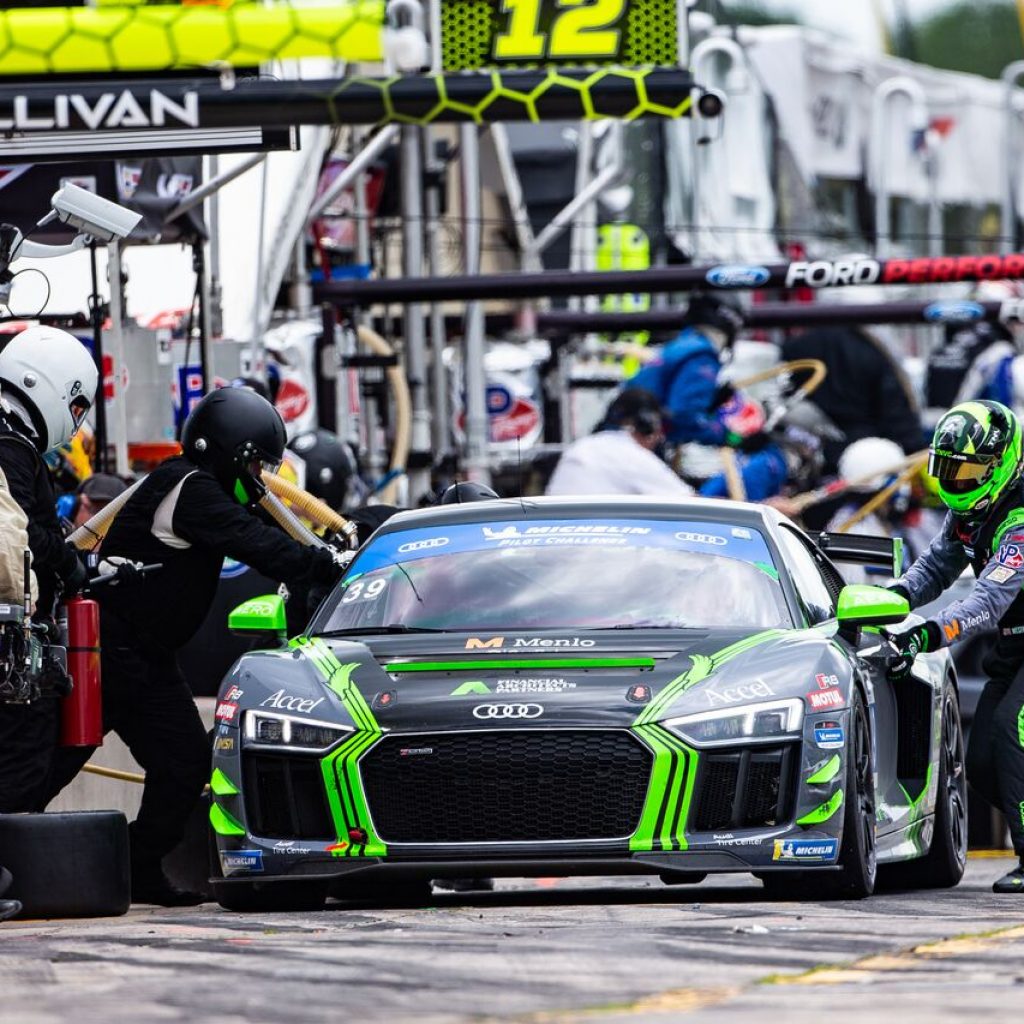 The weather provided warm conditions, 88 degrees with humidity, which would challenge man and machine from a tire degradation standpoint as well as heat for the drivers in the cockpit. Westphal closed the last 1.25hr of the 2hr race after Tyler took the green flag and the opening stint. "The car was quite hot, and given the Balance of Performance rules, I opted not to run the AC to free up as much horsepower as possible for our Audi as we are the slowest on the straightaway. This meant I was in a 135 degree cockpit, sliding the car around 100+mph corners, sometimes inches away from the competition. Good thing I love it and I have a partner like Hammer Nutrition that keeps me sharp and firing in extreme conditions." explained a sweat soaked Westphal.

The duo was able to keep the car in the top 5 all race, with a 4th place finish at the drop of the checkered and a positive points haul against the competition. Strategy and flawless driving had a 3rd place looking very promising, but a late race yellow flag with 15 minutes to go collapsed the gap Westphal had built on the #69 Mclaren, and at the restart the Mclaren made quick work of Westphal's Audi up the back straight with a 5 mph advantage on the straightaway. "The Balance of Performance is a tough job for the series to do, I sure wouldn't want to do it. However, the parity between our car and others on the straightaway isn't close, and thus it puts my Audi and myself in very high risk, defensive positions constantly. Or in the case of this race, just watch him drive around the outside of me on the straightaway. Hopefully the series can make an adjustment to the Mclaren and rein it in a bit since it's out of the window with us and a lot of the others (who are within 1 mph of our Audi)."

The next race is in Lakeville, Connecticut at Lime Rock Park in two weeks, July 19th, 2019 where the #39 looks to continue its assault on the 2019 championship, where it is now tied for the lead. You can catch TV coverage of all the Imsa Michelin Pilot Challenge races on a tape-delayed schedule with NBC sports.