For Immediate Release-

August 24th was round 8 of 10 at Virginia International Raceway, where Westphal and the #39 Carbahn Motorsport with Peregrine Racing Audi R8 GT4 LMS entered the race with a 9 point advantage over the #82 BMW M4 GT4 and a 13 point advantage over the #69 Mclaren GT4.

"VIR is one of my top 5 favorite tracks in the US, the natural terrain and topography make this place like a big, fast, green roller coaster" explained Jeff.

With lightning moving into the circuit just before qualifying, the grid was set based on championship points as a safety precaution, awarding the pole starting position to Westphal and Mcquarrie's Audi. At the drop of the green flag, Mcquarrie swiftly established a lead and maintained it until the rain started to fall, making this the 5th race of 2019 with mixed conditions. Tyler brought the #39 in from the lead under yellow to switch to rain tires, where the Carbahn crew got to work. As the race progressed with the rain subsiding, there was one car width of dry track around the entire 3+ mile circuit.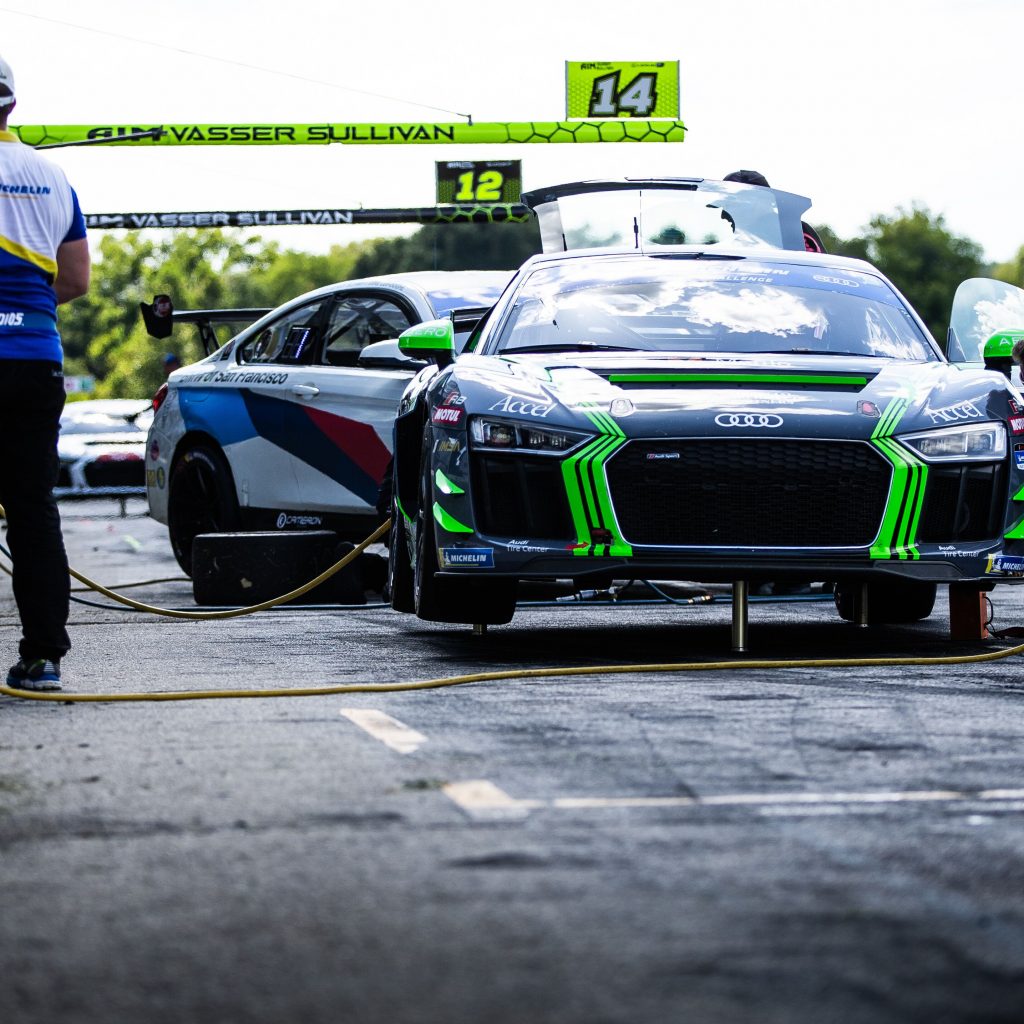 Once the Audi could make it to the end of the race on fuel, Steve Dinan called Tyler in to the pit so they could do the final stop of the race, and insert Westphal. The team executed the stop flawlessly and Westphal left in a rush with new, slick tires. Some minutes later Westphal had made his way back up to 3rd place, on the heels of the #69 Mclaren and #60 Mustang. With 15 minutes to go, more rain fell from the skies, making the restarts and last laps of the race ever changing and treacherous.

"So far we have had intermittent weather at most of our races this year, and though it proves exciting to watch, it certainly makes it tough on us with dry tires on the car while in wet conditions. The last 2 laps were a mix of hanging and trying to catch the guys ahead without damaging the championship" said an elated Westphal after the race.

On the last lap of the race, Westphal entered the final circulation in 4th due to being passed under yellow (illegally) by the #7 Porsche Cayman GT4, whilst still hunting the #60 Ford and #69 Mclaren ahead. By turn 3, Westphal was on the bumper of the #60 Ford, with the #7 Porsche challenging the Mclaren for the lead, 2 car lengths further ahead. In an attempt to secure the lead, the #7 dove to the inside of the Mclaren and ended up coming in light contact with the #69, spinning the championship contender out and promoting Westphal to 3rd on track. The cars crossed the finish line; #7 Porsche, #60 Ford, #39 Audi but due to incident responsibility the stewards enforced a time penalty on the Porsche, moving both the Ford and Audi up one spot.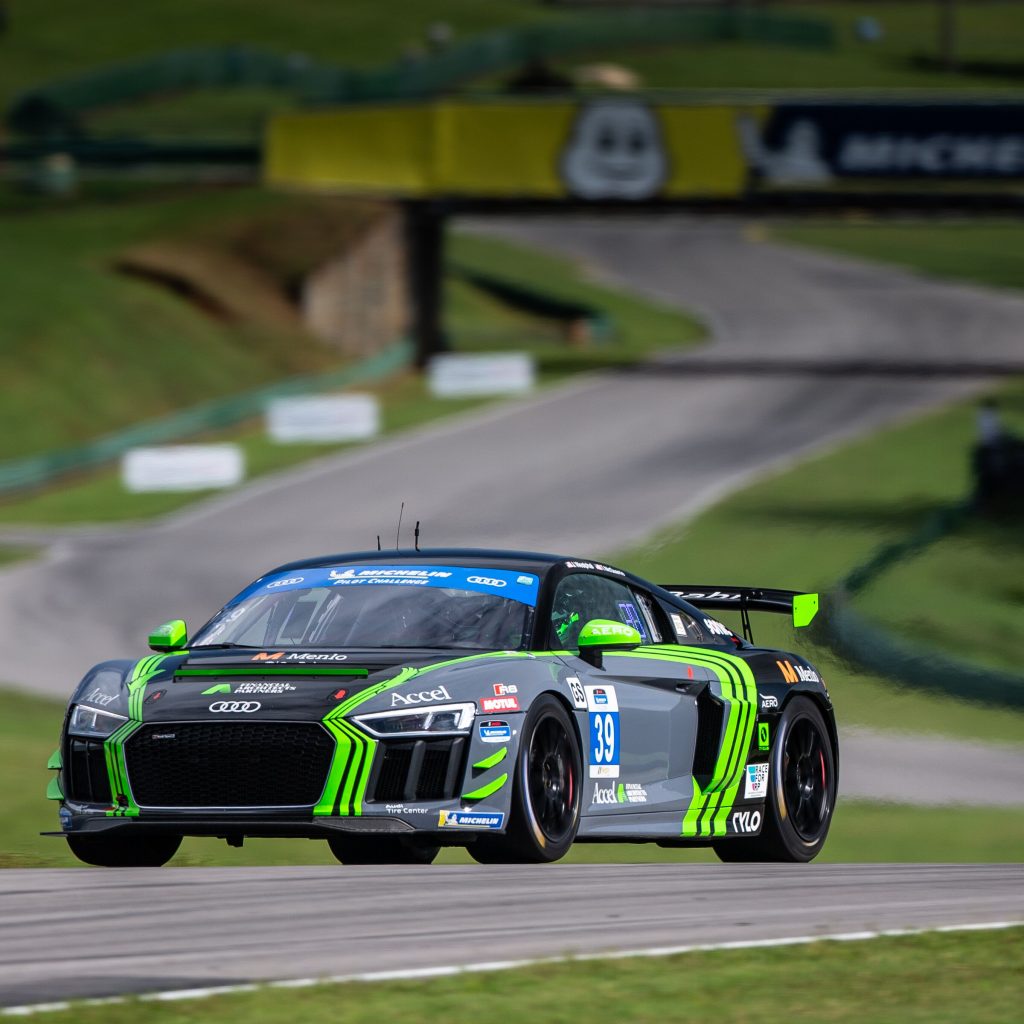 "I am so thankful to have such a great team around me, from each and every crew member, to the engineers, and our fearless leaders, this result truly the best way to say thank you for everyone's commitment, sacrifices and hard work. We got a bit lucky today but we also needed to put ourselves in a position to receive such luck, and this is a huge points day for us with only 2 races to go." Said Jeff.

The team has finished the past 7 races no worse than 4th place, whilst scoring 1 win, 2 seconds, and 2 third place finishes making 5 podiums in eight races. Heading into the home race for Westphal, Carbahn Motorsports, Peregrine Racing and Tyler Mcquarrie, the standings for the IMSA Michelin Pilot Challenge Championship look like this:

1st: Westphal/Mcquarrie Audi R8 LMS GT4 230pts
2nd: Lazare/Fergus                                     Mclaren 570 GT4            206pts
3rd: Clay/Jones                                    BMW M4 GT4                        201pts